Ⅰ. Introduction:
AFA automatic film coating machine adopts electric push rod to realize the coating movement of wet film preparation device or wire rod, which can effectively avoid the instability of manual coating. This machine adopts single chip microcomputer control technology; Touch screen display, select left and right line speed and displacement, and display the actual moving distance of coating in real time during operation; The coating rack can be returned to electric or manual mode; The operation interface is simple and clear, which is very convenient for operators to use; For the convenience of use, the left and right start/stop mechanical buttons and emergency stop mechanical buttons are added.
AFA-V model has two optional configurations: detachable "vacuum coating table" and "fixture coating table" for customers to choose when ordering. AFA-VI is a "vacuum coating table" configuration. AFA-VH and AFA-VIH are "electrothermal vacuum coating table" configurations.

The vacuum coating table uses an external vacuum pump (optional). The vacuum coating table panel is positioned by the positioning pin, which can be conveniently taken down for cleaning.

The electrothermal vacuum coating table uses an external vacuum pump (to be selected separately), and the heating adopts built-in integrated temperature control.

The coating push rod of this machine has been improved, which can be used not only for wet film preparation device, but also for various specifications of wire rods after being installed on the wire rod push frame, and there is no limit on the length of wire rods. The wire rod pushing frame is equipped with additional counterweight to meet the pressurization demand when the wire rod is coated.
Note: Wet film preparation device and wire rod need to be purchased separately.

AFA-V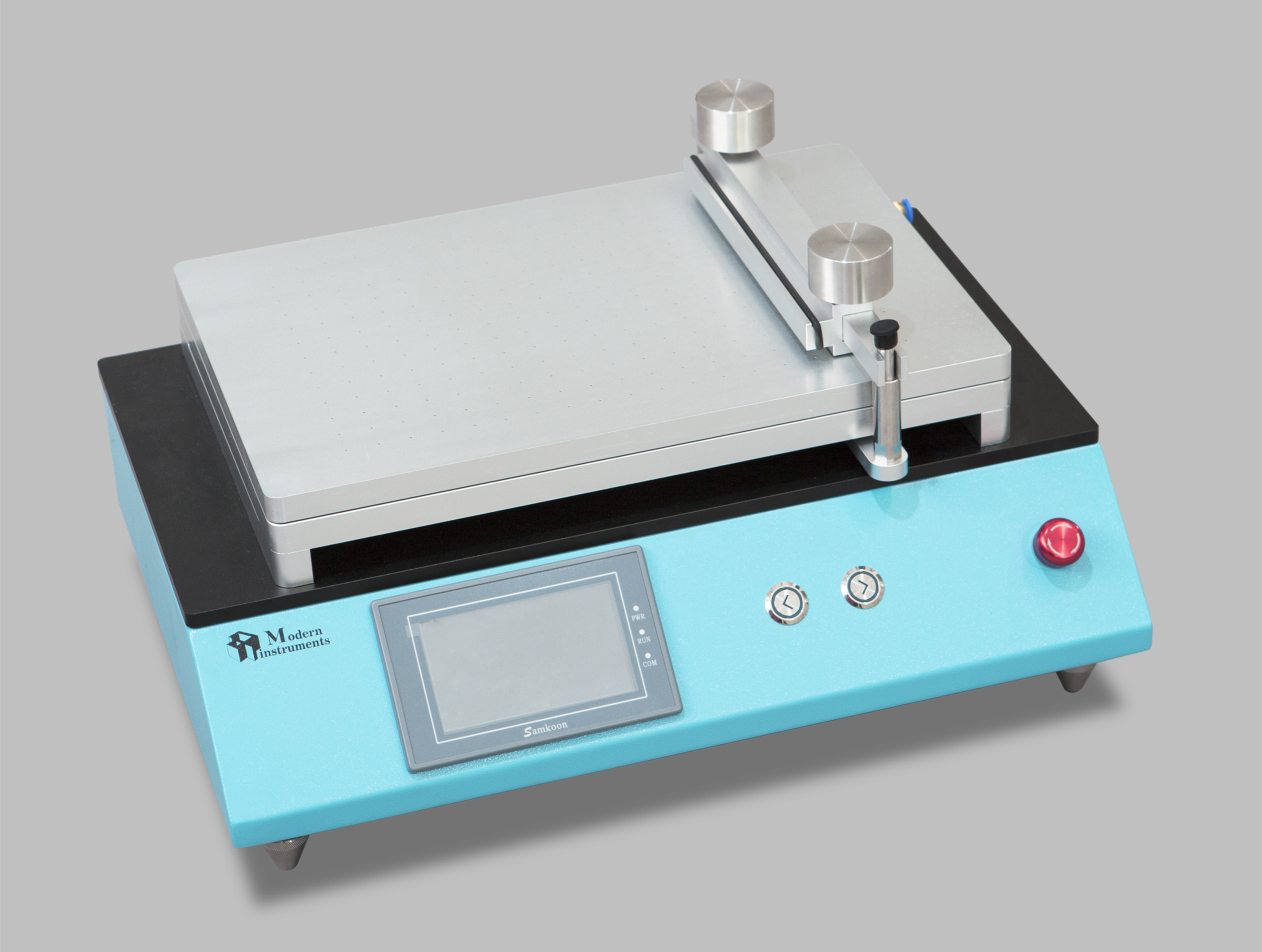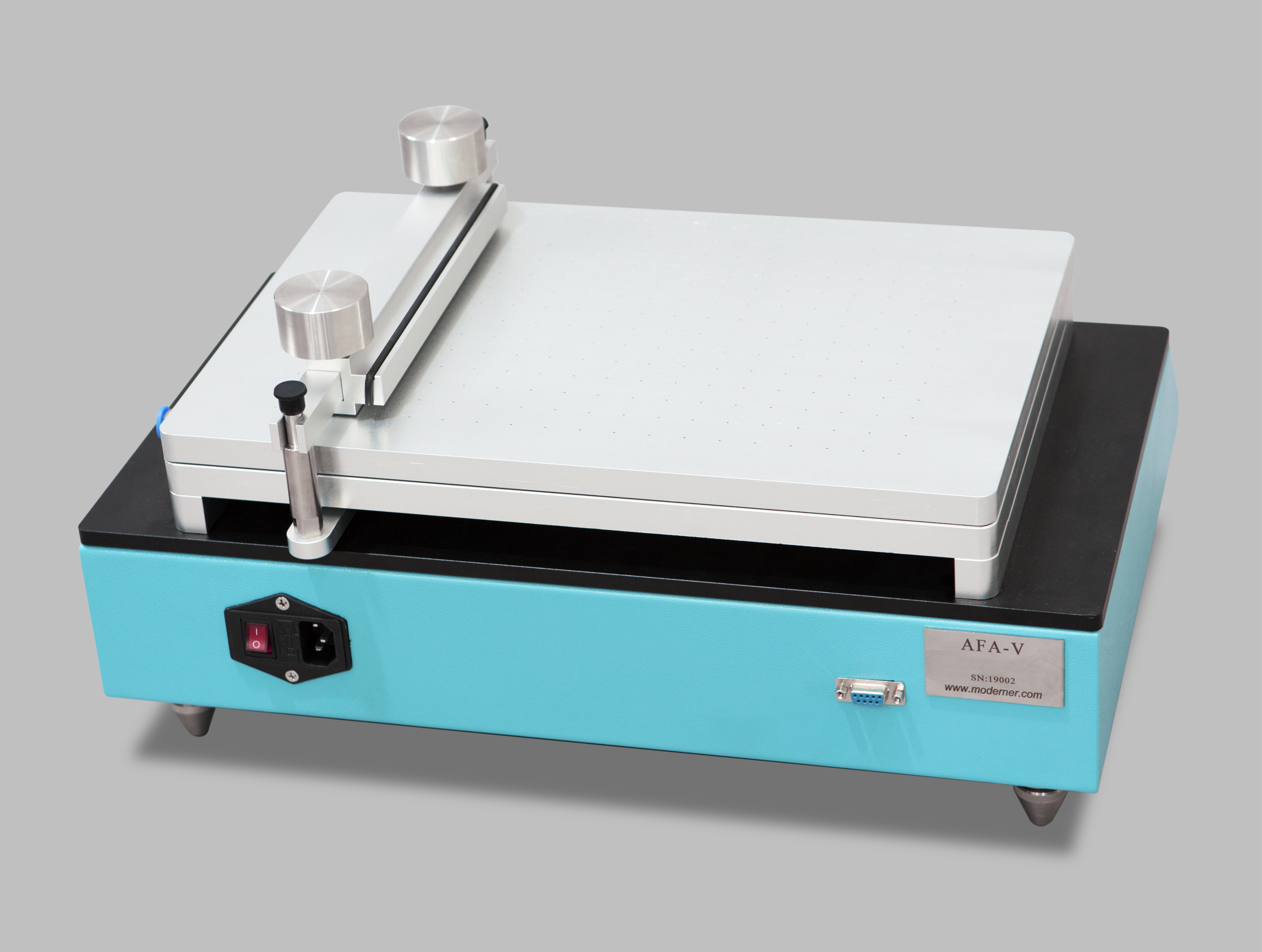 AFA-VI
Vacuum Pump


Main Technical Parameters:
Type

AFA-VH

AFA-V

AFA-VI

AFA-VIH

Configuration

Electrothermal vacuum Workbench

Vacuum

Workbench

Clamp
Workbench

Electrothermal vacuum Workbench

Electrothermal vacuum Workbench

Traverse speeds

2-200mm/s

2-200mm/s

Traverse displacement

25~250mm

25~400mm

Maximum Temperature Setting

100℃

-

100℃

Vacuum bed
(L×W)

380×254mm

470×254mm

530×350mm

Pore distribution
(L×W)

288×192mm

-

400×288mm

Electrical Power

220V 50/60Hz

110/220V 50/60Hz

220V 50/60Hz

Overall Size
(L×W×H)

470×350×215mm

620×450×230mm

Packing size

590×450×350mm

590×450×350mm

880×580×640mm

Gross weight

25.2kg

25kg

20.5kg

55.9kg

56.2kg
Ⅲ. Ordering Information:
| | |
| --- | --- |
| Type | Name |
| AFA-V | Automatic Film Applicator(Vacuum / Clamp) |
| AFA-VH | Automatic Film Applicator(Electrothermal vacuum) |
| AFA-VI | Automatic Film Applicator(Vacuum) |
| AFA-VIH | Automatic Film Applicator(Electrothermal vacuum) |
Ⅳ. Documents: