Ⅰ.Working principle and applicability:
The brand new digital viscometer is an intelligent instrument based on single chip intelligent control. This series of viscometer is integrated with a high performance step motor and a driver running accurately and stably as per the program setting, and the motor drives the rotor to rotate through a torque sensor at a constant speed. When the rotor meets any viscous resistance in the liquid tested, the resistant force will be fed back to the torque sensor, processed and computed internally, and then displayed on the liquid crystal screen as a viscosity value of the liquid tested. Comparing with similar instruments, this series of instrument is advantages in convenient operation, direct reading, rich display, high measuring accuracy, stable rotating speed, high interference resistance and wide working voltage (100V~240V, 50/60Hz), etc.
In instrumental operation, this series of instruments can display the percentage of measured value to the full measurable range, warning of measurable range overflow, scan automatically and measure timely, and depending on these functions, the user can rapidly and precisely select a suitable combination of rotor and rotating speed, save the determined measuring conditions, and use it conveniently in future production and test.
This series of instrument can be extensively used in measuring the viscosity of solvent adhesive, emulsion, biochemical product, paint, coating material, cosmetics, ink, paper pulp, food and starch, etc.

NDJ-8S(new)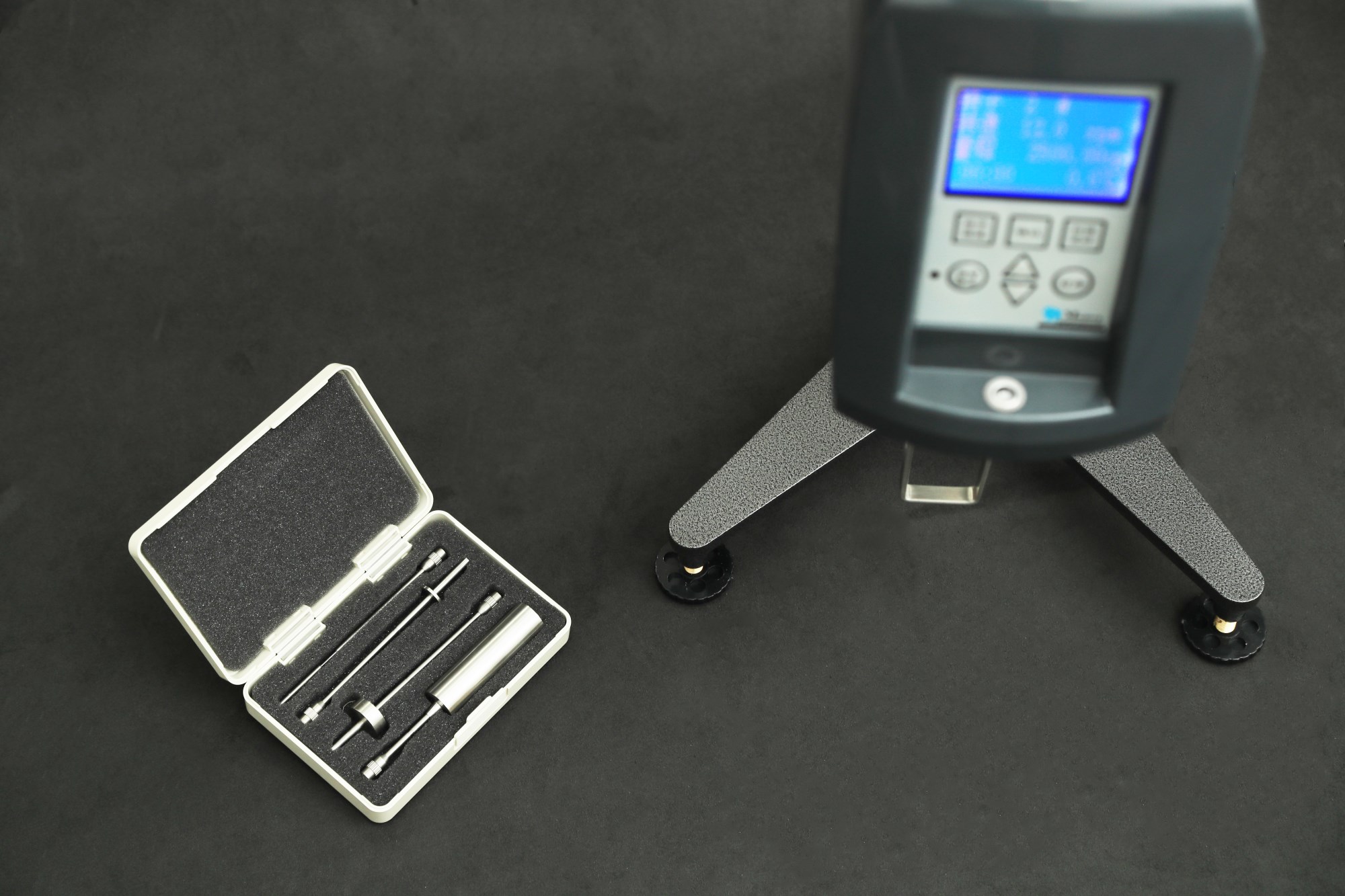 NDJ-8S(new)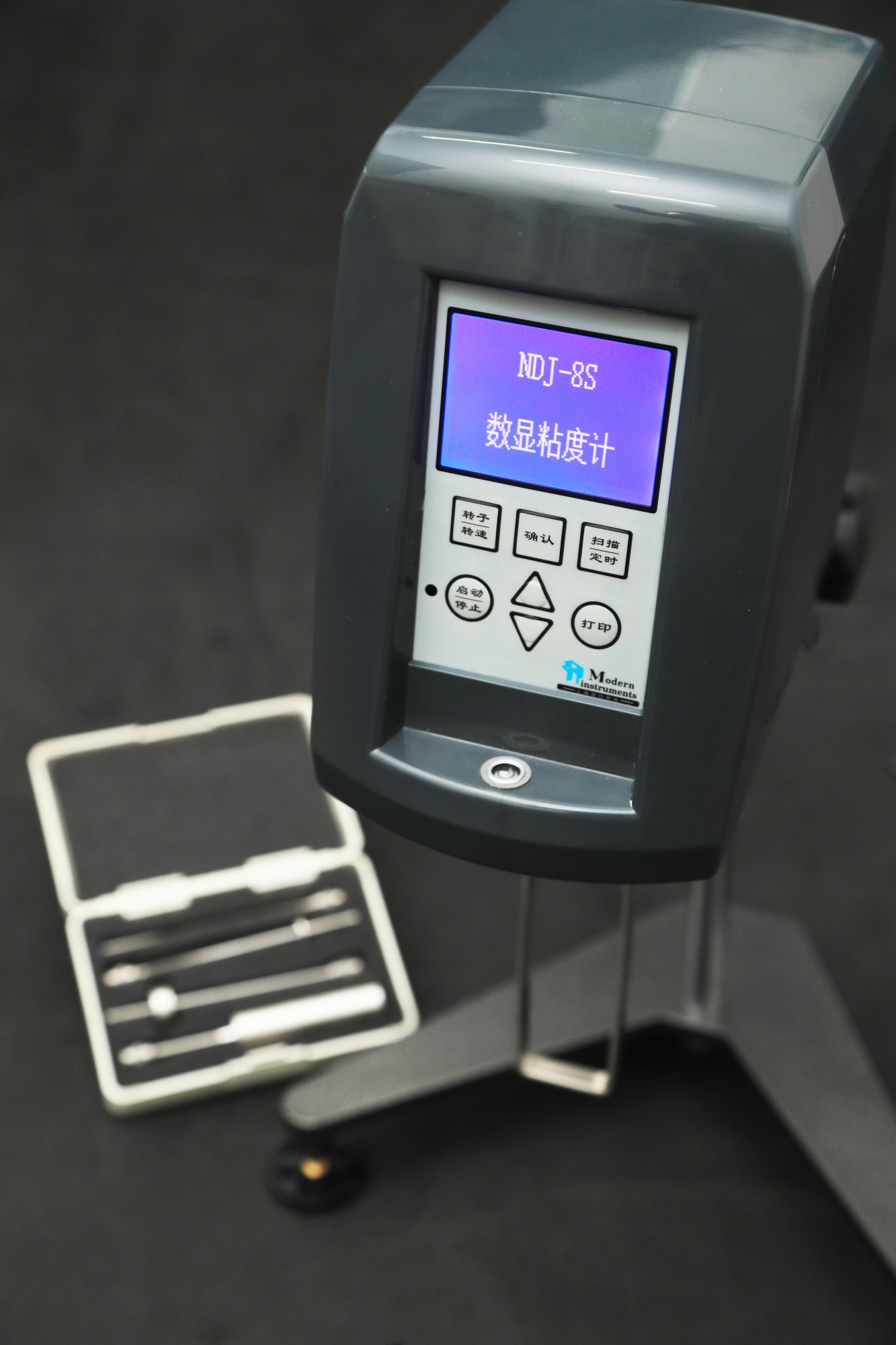 NDJ-8S(new)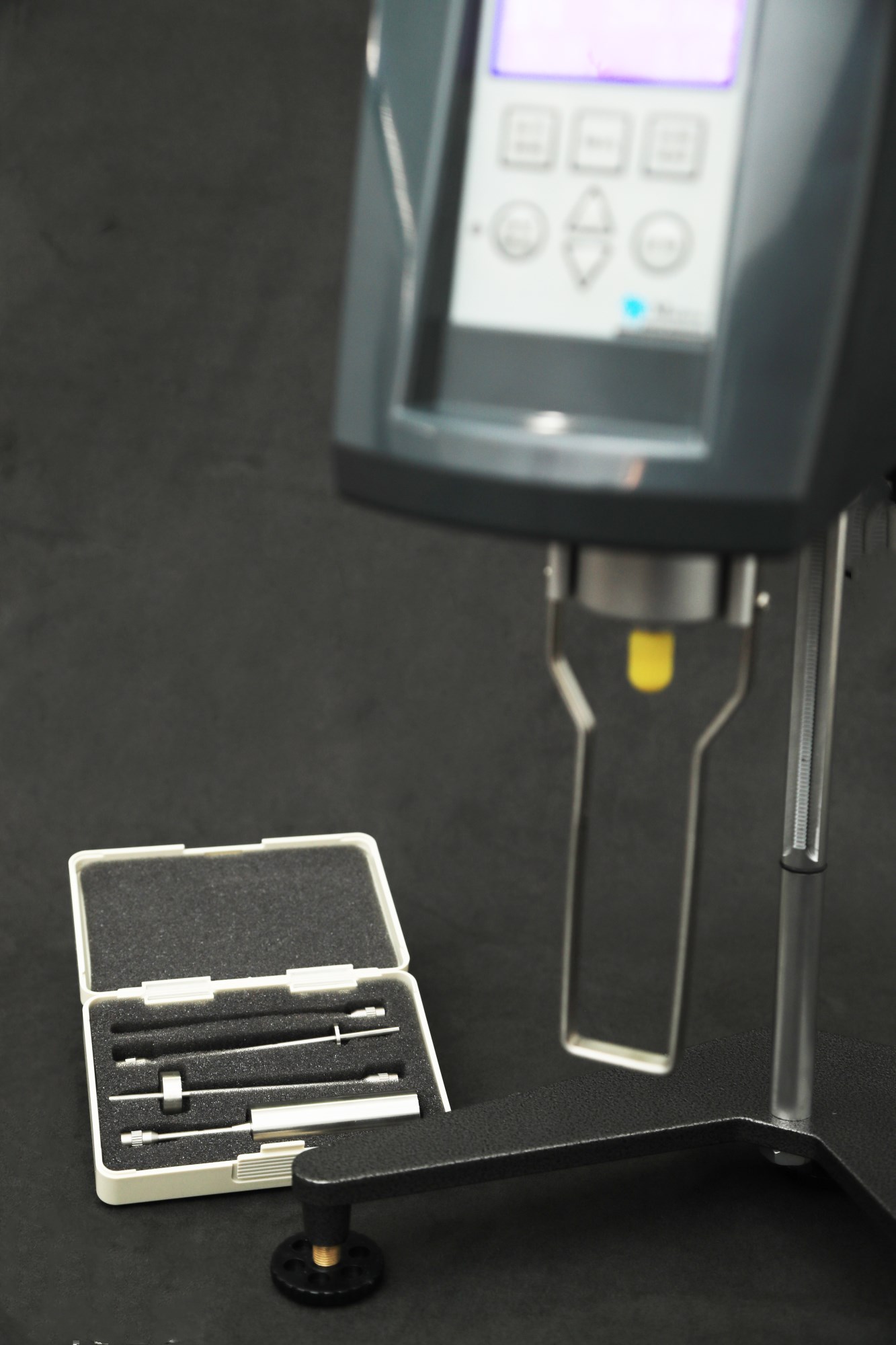 NDJ-8S(new)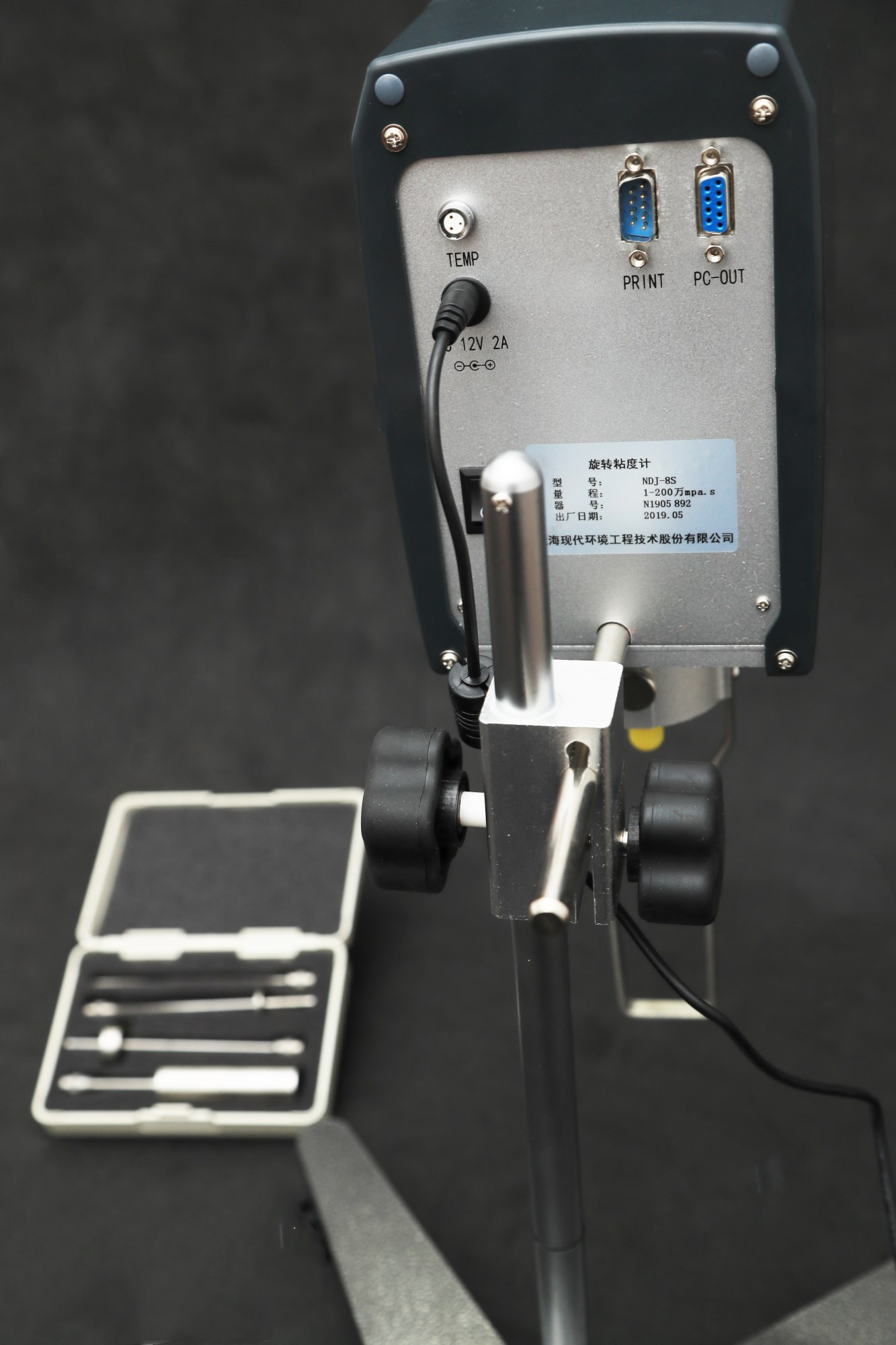 NDJ-8S(new)
NDJ-5S(old)
NDJ-5S/8S(old)
Ⅱ. Main Technical Parameters:

Type

NDJ-5S

NDJ-9S

NDJ-8S

DV-1

Measuring range

1mPa.S ~ 100,000mPa.S
(Rotor #0 must be used for 15CP below)

1mPa.S ~ 2,000,000mPa.S
(Rotor #0 must be used for 15CP below)

Displaying resolution

0.01mPa.S

0.01mPa.S

Measuring accuracy

±2%
(Full measuring range)

±1%
(Full measuring range)

±2% (full measuring range)

Rotor spec.

Rotor #1, #2, #3, and #4
(Rotor #0 is optional)

Rotor #1, #2, #3, and #4
(Rotor #0 is optional)

Rotating speed

6, 12, 30, and 60 rpm

0.3, 0.6, 1.5, 3, 6, 12, 30, and 60 rpm

External dimensions

95mm×130mm×155mm (excluding the base)

Net weight

2kg (excluding the base)
* Unit conversion: 1Pa.s=1,000mPa.S, 1P=100mPa.S, 1cp=1mPa.S

Ⅲ. Feature:
The newly designed NDJ series digital viscometer not only has more modern aesthetic elements in appearance, but also is more convenient to operate, more accurate in measurement and more complete in function; many are still not available in domestic similar products.
It adopts highly integrated micro-computer chip, imported stepper motor and other key components, with LCD backlight display, program setting, automatic control, timing measurement, automatic scanning, error alarm and other functions. The measured data is accurate, reliable and repeatable.
Main features of NDJ series digital viscometer:
1. Measurement data is displayed directly on the LCD screen without secondary calculation.
2. Adopting international newest microcomputer driving technology and imported stepping motor, the speed is accurate, stable and reliable.
3. Using advanced switching power supply technology, the voltage and frequency range is wide, and the fluctuation of the power supply will not affect the measurement accuracy.
4. The horizontal display device is conveniently located below the viscometer operation panel (new function).
5. Viscosity value display value accuracy is accurate to two decimal places, namely 0.01mPa.S (new function).
6. With the function of timing measurement, it is very practical for detecting non-Newtonian liquid (new function).
7. Select the temperature probe to measure the temperature of the sample being tested in real time.
8. With automatic scanning function, the instrument can automatically recommend the appropriate combination of rotor and speed.
9. It can automatically display the viscosity range that can be measured by the selected combination.
10. With a print interface, you can directly connect to a micro printer and print various data (new features).
11. Optional data processing software, which can record the change of viscosity with time, rotation speed or rotor (shear rate) and temperature in real time, which provides a good understanding of the viscosity and rheological properties of non-Newtonian liquids.


Ⅳ. Environmental conditions:

Ambient temperature: 5°C ~ 35°C (recommended 20°C)
Relative humidity: ≤80%
Power supply: AC100~240V (50/60Hz)

V.The measuring range of each combination of rotor and rotating speed is shown in the table below:

Rotor

RPM

No.0

No.1

No.2

No.3

No.4

Full measuring range mPa.s

60 r/min

10

100

500

2000

10000

30 r/min

20

200

1000

4000

20000

12 r/min

50

500

2500

10000

50000

6 r/min

100

1000

5000

20000

100000

3 r/min

200

2000

10000

40000

200000

1.5 r/min

400

4000

20000

80000

400000

0.6 r/min

1000

10000

50000

200000

1000000

0.3 r/min

2000

20000

100000

400000

2000000
Rotor

RPM

No.21

No.27

No.28

No.29

Full measuring range mPa.s

50 r/min

100

500

1000

2000

20 r/min

250

1250

2500

5000

10 r/min

500

2500

5000

10000

5 r/min

1000

5000

10000

20000

2 r/min

2500

12500

25000

50000

1 r/min

5000

25000

50000

100000

0.5 r/min

10000

50000

100000

200000
VI. Viscometer standard packing list:
| | | | | | |
| --- | --- | --- | --- | --- | --- |
| SN | Name | Qty | SN | Name | Qty |
| 1 | Digital display viscometer main machine | 1 set | 7 | Power adaptor | 1 pcs |
| 2 | Main machine connecting rod | 1 pcs | 8 | Instruction Manual | 1 pcs |
| 3 | Elevating pole and elevating slider | 1 set | 9 | Acceptance certificate | 1 pcs |
| 4 | Triangle base | 1 pcs | 10 | Card of guaranteed repair | 1 pcs |
| 5 | Rotor protective frame | 1 pcs | 11 | Allen wrench | 1 pcs |
| 6 | Rotor | 4 total | 12 | Fixing ring, testing tube, metal connector, extension hook (only for SNB-1A/NDJ-1C) | 1 each |
VII. Optional accessories:
| | | | |
| --- | --- | --- | --- |
| SN | Name | Qty | Remark |
| 1 | Temperature probe | 1 pcs | Displaying the current temperature of the fluid tested (0°~100°C) |
| 2 | Portable printer | 1 set | Printed the tested data directly |
| 3 | Constant temperature water bath tank | 1 set | Control the sample temperature precisely |
| 4 | Rotor #0 | 1 set | Testing the viscosity of any sample whose viscosity is below 15mPa.s |
VIII.Operation video:
IX.Ordering Information:
Type

Name

NDJ-5S

Digital Viscometer

NDJ-9S

NDJ-8S

DV-1
X. Documents: